American Mary (why American? No idea!) was a bit of fun weirdness about a medical student who gets drawn into performing back-room body-modification operations. Starring Ginger Snaps Canadian babe Katherine Isabelle, this film, written and directed by the Soska sisters felt almost there…almost.
The Story only scores a +2 while the Look, which was cool and slick, scores a +3. The Cast scores a +1 because half of them were good, the other half not so much. The Commitment to Genre, which is the Cronenberg-esque "Dead Ringers" type of quiet Canadian moodiness earns a top-score +2.
Subtotal: +8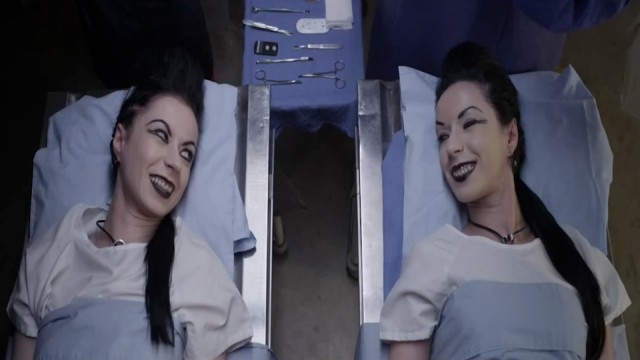 This film loses one point (-1) due to it's lack of suspense which is the failing of every Cronenberg film as well. It also loses a point (-1) for Antonio Cupo who was fromage and another two points (-3) for the surgeons Dr. "Over-Swearing" Grant and Dr. Walsh and Detective Dolor. It wins back a point (+1) for Go-to-Guy and Bodyguard Lance who was good. It loses a point (-1) for the doll-wannabe not wanting to be sexualised and then being really sexual. It gets another (+1) back for Writer-Directors Jen and Sylvia Soska as weirdo twins. Lastly, it earns a point for some great revenge (+1).
Final score: +5.