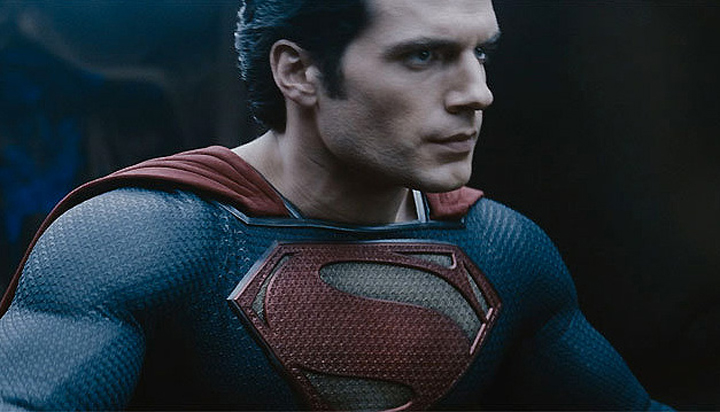 Look up in the sky! It's a bird! It's a plane! It's tonnes of falling glass and debris!
Episode 3: Man of Steel (2013)

The new Superman film, Man of Steel starring English actor Henry Cavill was a pretty great interpretation on the comic book hero.
The film begins with the dying Planet Krypton. Strange Giger-esque architecture and vaginas consume every detail. In a disagreement between Jor-El (Kal-El/Superman's dad), the Kryptonian council and the rogue and racist General Zod, a revolution erupts in the planet's last hour. In the melee, Kal-El is sent blasting Earthward. Jor-El is killed, Zod gets sent to the Phantom Zone and the Krypton becomes Kryptonite.
Using flash-backs throughout the first half of the story, Zack Snyder's Man of Steel kept me interested and intrigued in a story I know religiously. The story paints a lonelier picture of the young Clark Kent, battling with his desire to do good and help those in need while his adopted-father Jonathan Kent cynically warns him of his xenophobic fellow Earthmen.
After a series of sightings of his super-do-gooding and having saved the snooping reporter, Clark discovers he's got Pulitzer prize winning reporter Lois Lane on his trail. What to do? What to do?
The answer comes in the form of the escaped General Zod and his band of grumpy soldiers who demand Earth to turn Kal-El over to him. Superman appears. Of course, General Zod intends badness and he begins terraforming Earth into a new Krypton which will end all human life in the process. Well that just won't do.
Then the fighting begins.
An hour and a half later, it's all over and Superman is dead. Lois Lane flies east around the west-spinning planet Earth, faster and faster, until it turns back the other way making time reverse and then Superman is alive again and everything is fine and dandy until everything being held on the surface by gravity floats away into space.
Of course that didn't happen, that would be ridiculous.
Where was I? Right. An hour and a half later, it's all over. The end.
While I really enjoyed this movie, it was watched under being assaulted by the loudest audio I've ever heard in a film. So loud in fact, that I feel like I've been to a concert. My ears feel like they need to recover and my throat is somewhat hoarse from talking (shouting) through the end credits waiting for the expected finale scene. Don't wait, it isn't there. It was so unbelievably loud that I'm tempted to write this whole review in capital letters. Sorry John Irving, but I won't.
One of the interesting elements of the Man of Steel is that unlike previous incarnations, this film blatantly paints Superman as Jesus, the saviour of humanity. As Superman is being interrogated he says that he is 33 years old; the accepted age of Jesus when he was crucified, descended and ascended. A short time later, when about to save humanity he falls back with his arms extended is a 'crucified' pose. There are many shots and poses throughout the film that build this idea of the Jesus of Steel, but I applaud them in not being wishy-washy about it. Even the relationship between Clark and Lois harkens to the relationship between Jesus and Mary Magdalene, the only person who knows him.
The Story of Man of Steel has been told countless times in comic books, on film, television, cartoons and still Zac Snyder has managed to make it feel fresh and new without taking too man liberties. The Story gets a +3. It's approach with flash-backs and the overall moodiness was a nice contrast to past versions and paints Kal-El as something more of an intellectual, the way he should be portrayed. The Look also scores a +3 as it was beautiful and visually intriguing. The visual effects, his flying, the smashing, the throwing of cars was extremely realistic and though it had as problem or two, it'll pay later. The Overall Casting was top-notch, couldn't be better. Henry Cavill was a great Superman and deserves his place among George Reeves, Christopher Reeve and Tom Welling. Amy Adams as Lois Lane, Laurence Fishburne as Perry White, Diane Lane as Martha Kent, Kevin Costner as Jonathan Kent, Russell Crowe as Crowe-El, I mean Jor-El, and even Michael Shannon who had Terence Stamp's big General Zod shoes to fill; they were all excellent. Even many of the lesser known supporting cast were brilliant including Battlestar-Canadians Alessandro Juliani and Tahmoh Penikett. Overall Casting scores a +2. The Commitment to Genre scores a +2 as this one rubs super-shoulders with the likes of the Dark Knight, Iron Man and the Avengers.
Subtotal: +10.
I think Man of Steel requires a deduction of one point (-1) for the destruction of Metropolis. It was too excessive; an endless barrage of smashing and crushing that at one point felt like this should be over…now…no way…how about now…nope. The sequel will need to be set 20 years in the future or everything will still be under construction. I will deduct a point (-1) because Zod's soldier, the mute-giant Non who is never introduced, appears out of nowhere, never removes his mask and has no presence at all and I'm not really sure what even happened to him. He will share his point deduction with the Kryptonian armour – I just don't like it. I will instead include him in a point (-1) deduction because of the speed of the action. Everything happens extremely fast and most of the details are missed by the eye. Every once in a while you will catch a glimpse of some great detail that if you weren't looking there, just then, you would have missed it entirely (like several other bits). After several viewings, there will be more nuggets discovered I'm sure. I will add a point (+1) for the timber truck. Lastly, it will lose a point (-1) for the missing Superman theme. The music reminds me a bit of Tangerine Dream's Bladerunner score but this film deserved the 1978 or the 1952 theme. This film has none.
I will say that I already want to watch it again.
Final score: +7.
The best teaser trailers ever made…